Click here to provide your: Feedback Survey for Sussex Indian Punjabi Society
27th February 2021 – Indian Cookery Class by Minesh Agnihotri (The Kari Club)
Click Facebook Album to see photos of our participants enjoying the class.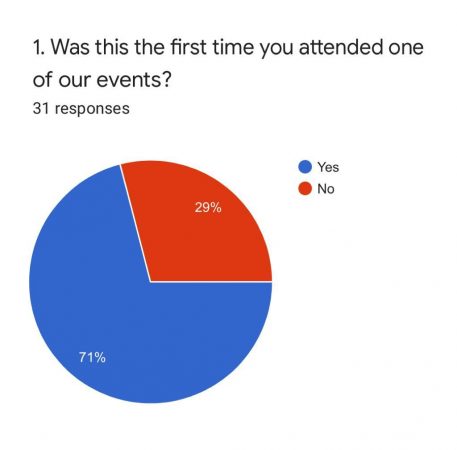 4. What did you like "Most" about the event?

"Very educational and interactive"
"Interaction of Minesh"
"The incredible cookery teaching and meal preparedLearning something new and also seeing communities get together through cookery classes"
"I loved participating in a group experience but with the convenience and safety of home"
"Very well organised"
"Quality of ingredients, ease of using them, Professional instructions, the taste of food and organisation of the event, the ingredients were kindly delivered home."
"Friendly, chatting with a mix of local people"
"Preparation, welcome, knowledge sharing, quality time, delicious food."
"Chicken recipe"
"Lovely relaxed evening, whilst learning new skills with the family whilst meeting new friends."
"It was very well organised, friendly and fun."
"Everything from the organisation and communication of the event through to the amazing menu and super guidance from Minesh."
"Brilliantly organised, engaging and thoroughly enjoyable from start to finish."
"The presentation was clear and the food was exceptional"
"Best was the chance to cook along with other people…. Very friendly. But also Getting the box with all the ingredients so beautifully packaged was a treat and the food we cooked tasted lovely"
"Learning about building layers of flavour. So informative and good pace. Clear instructions and format."
"Balbir did a good job connecting and engaging everyone."
"Learning new facts on Indian cooking."
"Professionalism of the chef"
"The whole organisation of the event from the pre-packed food delivery to group cooking"
"Professionally organised and excellent communication"
"The actual call-in's while following the chef's instructions."
"The exclusive tips from Minesh whilst going through the steps."
"Tips that were shared by Minesh about salts and other spices. I was not aware about few things. I only cook occasionally so these tips about spices and checks to do at different stages was very helpful."
"Something different during lockdown• Organised very well and the interaction of the attendees"
"Informality"
"The food was very tasty and it was great to see everyone having fun and enjoying themselves!"
"The excellent organisation, making it a fun and easy thing to do in lockdown"
"Great communication and professional delivery. Very well organised despite being run for the first time."
5. Do you have any other suggestions, comments or any other general feedback?"
"The whole event was very well managed and organised by all involved. Minesh was amazing , he didn't rush , he gave people time to catch up with cooking, the food ingredients provided were perfect and we managed to follow the instructions to make a delicious meal, will definitely join another event like this again :)"
"Would love to be a part of future events and more cookery classes"
"If you run another event like this again I would love to attend. I learnt a few key things that will stay with me (and I can share with others) and I had a really good time. Thank you."
"Just a massive thank you for all those who put in so much work to enable all the participants to have such a good time."
"Thanks for organising this. Nice to have something different and social to do . Much appreciated 🙏"
"Thank you for organising this was great to connect with people from across the city over food at this strange isolating time"
"More events. Lets make Punjabi sag!"
"Well presented, easy to follow and end result was delicious food"
"More of this please."
"Keep it up. Balbir you have made a big difference to this society especially organising the membership forms and chat groups. They look very professional."
"Very well organised by Balbir. The interaction of everyone involved was great. Putting an event like this together is complex and involves hard work which paid off"
"New experience after a long time"
"Maybe keep everyone muted from the moment they join. And host could chat with each as they join."
"More details about how to cook the paneer"
"Calm, confident and unrushed delivery from Minesh. I will definitely be recommending 'The Kari Club' to my friends and family"
6a. What did you like "Least" about the event?
"Nothing"
"All good"
"None"
"Terrible internet (my problem not yours!)"
"I had no problems"
"Few technical glitches"
"Honestly nothing"
"The time flew!"
"Liked everything"
"Nothing really. Shame we couldn't do it in person!"
"Would have been helpful if Minesh had held up his dishes at certain point eg to show what onions should look like as we were on a smaller screen so could not see very well. But this is a minor thing overall it was a great fun and informative session"
"I felt that I received all communications pre-event twice because of the WhatsApp group and emailed information. I would prefer just email."
"Initial technical problems with zoom"
"Everything was superb"
"There wasn't anything which I would say as it left me and family elivated after this event."
"Some technical glitches"
"The fun of cooking together"
"Not being able to keep up due to my rubbish electric hob"
6b. How do you think this event could have been improved?
"Well organised"
"Not sure, it was lovely"
"Nothing. It was brilliantly organised and really enjoyable"
"Double check of the camera and sound before hand as there was a short while when I couldn't see or hear Minesh."
"Nothing."
"Few technical issues with the camera and sound but was sorted quickly"
"It was great, no improvement needed."
"In a way of introduction for attendees – for everyone to say one thing that others don't know or an interesting fact. Balbir tired to do this, heads up beforehand for some would have been useful."
"All excellent save for the technical glitches at the start."
"Would like more exclusive tips to be written down"
"I would recommend a different camera angle so we could have seen the Chef and the preparation for the dish together. I know at times that isn't possible but then splitting the screen when he was using the spices. Alternatively switch to a pre-recorded video."
"Technicalities"
"Feedback from current participants"
"It was great"
"issues always expected with these type of events, but was minimised and quickly resolved."